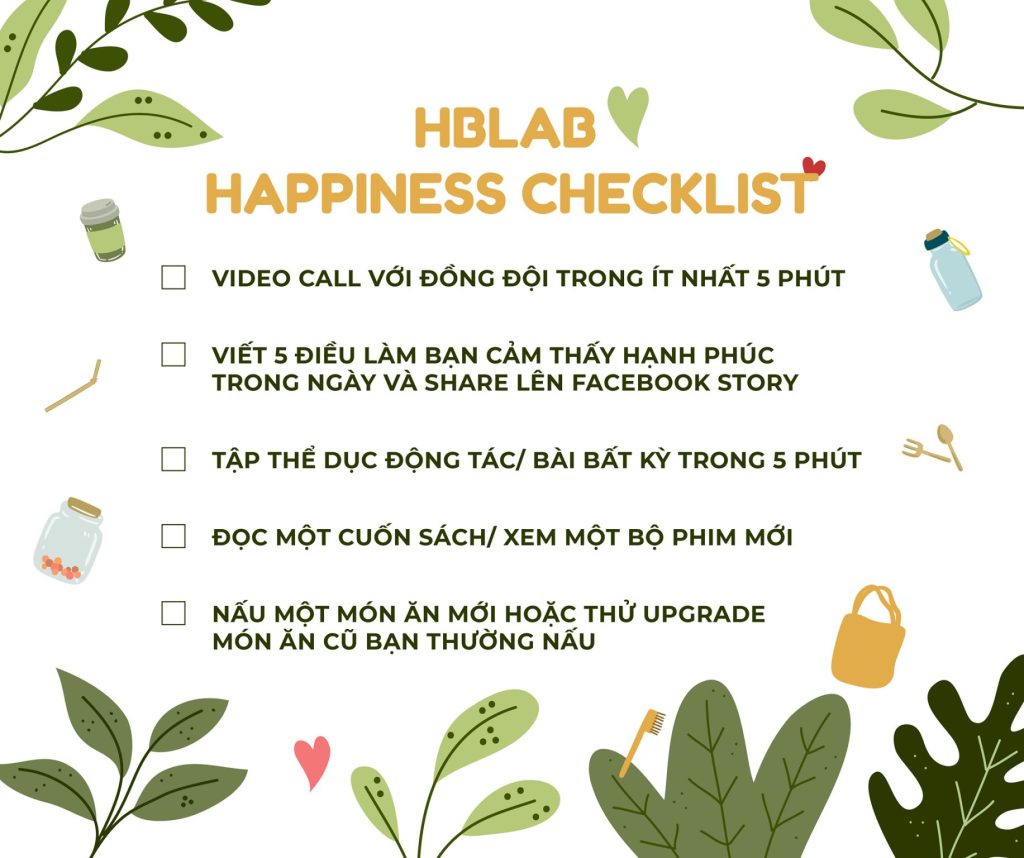 Put aside the boredom of the lockdown
Temporarily forget about the inadequacies of having to stay at home
This is the season to love yourself and cherish the near and dear things around you

It seems that many people have thought and said so during this difficult period of social distancing. But have you ACTED?

At HBLAB, we trust in the saying "actions speak louder than words", so here comes the challenge "HAPPINESS CHECKLIST – Spread positivity".
 
Let's wait and see the results of HBLAB in the next five days!
For you, if you haven't started or are looking for meaningful activities for yourself and your loved ones, please accompany HBLAB in the HAPPINESS CHECKLIST challenge!
Do a new activity every day and see how you will change after five days. Share the Checklist with a Tick to spread the positive things with HBLAB!
📍 𝑽𝒊𝒆𝒕𝒏𝒂𝒎𝒆𝒔𝒆 𝒄𝒂𝒑𝒕𝒊𝒐𝒏:
[HBLife] HAPPINESS CHECKLIST – SỐNG TÍCH CỰC TỪ NHỮNG ĐIỀU NHỎ NHẤT!
☘ Gác lại một bên những chán chường mùa giãn cách!
☘ Tạm quên đi những bất cập khi phải ở nhà!
☘ Đây là mùa yêu thương bản thân và trân trọng những điều thân yêu ngay bên cạnh!
Có vẻ đã rất nhiều người từng nghĩ, từng nói như vậy trong giai đoạn giãn cách xã hội nhiều khó khăn này. Nhưng các bạn đã HÀNH ĐỘNG chưa?
❤ Ở HBLAB chúng tôi HÀNH ĐỘNG "cực mạnh" bằng cuộc thi "HAPPINESS CHECKLIST – Lan tỏa điều tích cực".
Cùng chờ xem thành quả của HBLAB chúng tôi sau 5 ngày tới như thế nào nhé!
🌻 Còn bạn, nếu chưa bắt đầu hoặc đang tìm kiếm những hoạt động ý nghĩa cho chính mình và người thân thì hãy đồng hành cùng HBLAB trong chương trình HAPPINESS CHECKLIST!
🌻 Mỗi ngày mới làm một hành động mới, thử xem bạn thay đổi như thế nào sau 5 ngày? Share lại Checklist kèm dấu Tick để cùng HBLAB Lan tỏa những điều tích cực nha!