Isn't it true that we don't judge a book by its cover? We certainly do! Whether it's the menu of food at a fine restaurant or the latest technological device, we tend to adore well-designed things. Websites, particularly those in the ecommerce sector, also catch customer's attention by their good-looking designs. 
A successful online sales and marketing strategy has always relied on attractive, stylish website designs. That's because a well-designed product and a well-chosen color palette may boost the perceived worth of your goods. If you don't provide your visitors the best website design and appropriately package your products, you may waste your money.
Whether you're launching a new ecommerce site or planning a redesign, here's what you need to consider to grow your EC site.
What to Keep in Mind When Choosing an Ecommerce Website Design Template
Some templates are flexible enough to function with a wide range of items and stores, while others may include characteristics that make them particularly well-suited to a certain sector. Regardless of what your business is offering, there are certain common aspects to consider when selecting the right template for your business.
Design
First impressions are indeed crucial. Within seconds of surfing a website, customers may determine if they want to stay or depart. As a result, your template should be professional, attractive, and welcoming.
A well-designed website is the combination of a number of elements. An excellent website should have a variety of high-resolution photographs, videos, slideshow features, a strong set of color and font themes. 
Structure
A clear structure with well-defined sections, categories, and links is also essential for keeping your customers interested. Product groupings, galleries, and other layout elements go a long way toward making your visitors want to explore your business. Organizational considerations are less spectacular, but they're just as crucial in generating a positive first impression on your customers.
Nothing turns off a potential consumer faster than a cluttered website, walls of content, or an overabundance of links. The template for your online business should be well-organized and allow for easy navigation.
Intuitive interface
User experience could be enhanced a lot with an intuitive UI. An effective intuitive interface of an ecommerce website design should meet your clients' expectations and is simple to browse. 
Customers will be able to execute their duties without interruption if you provide an easy interface. Templates should allow for speedier integration of any additional features and make the setup process simple to handle.
Ability to customize
Due to the fast growth of ecommerce websites, it is necessary to change the features or functionality of your website on a regular basis. To respond to those changes, your template must be very changeable. You must be able to customize the layout of your pages, as well as the product description, product photos, payment procedure, and storefront aesthetic design.
Mobile-friendliness and responsiveness
If you want your ecommerce website to generate a lot of sales, you should use a mobile-friendly template. Your online store must be responsive enough to fit the screens of all devices.
According to a worldwide market share figure, mobile surfing has surpassed desktop browsing as the most popular way to "be online." In reality, when tablets are included in the mobile device category, total web traffic is around 55 percent mobile (compared to 45 percent on desktop). 
A responsive website features dynamic content that varies, optimized pictures, device-specific spacing, and is functionally dependent on mobile operating systems. Text and graphics move from a three-column style to one that suits your device's screen precisely using a responsive design. 
If you're on a desktop and want to check if a website is responsive, simply reduce the window and see if the display adjusts to fit the new size. Responsive websites respond to the user's needs and improve usability regardless of the device.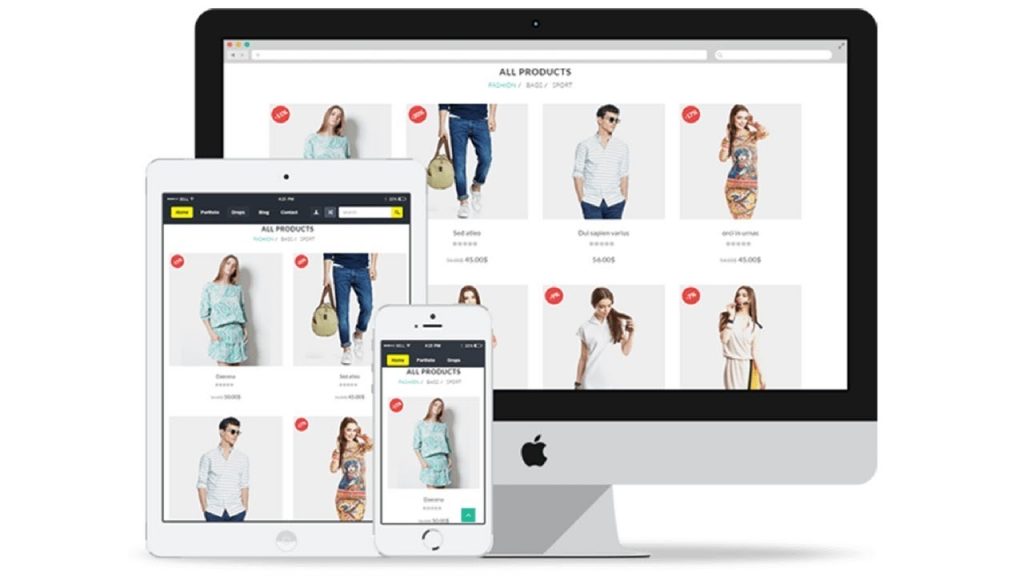 Steps to Choose the Best Ecommerce Website Design Template for your business
Think about your goals
What exactly is the purpose of your website? Your website's goal must be in line with your company's objectives. It might be that you want to improve relevant traffic, build your email list, give a tailored experience for your visitors, or raise your sales. That's all well and good, but it's merely the long-term objective.
Make a list of questions and ask yourself:
What kinds of issues do you deal with?
Determine the issues your ecommerce website will address. Will your website provide rapid quotations, easy shopping, useful guidance, product information, and so on?
Who are your potential customers? 
You want to know what your customers desire and how they behave. You'll be better able to give the proper solution and choose the right ecommerce website design if you understand your consumers.
What exactly is your area of expertise?
In what industry would you use your online shop template? Of course it is clearly defined, but outlining your business's ecommerce service also necessitates this evaluation and comprehension. Food, business, beauty, sports, and other fields are all possibilities.
What is your EC website's vision?
What should the design of your ecommerce website template be like? After you've chosen what area you're in, benchmarking prominent organizations in your field is a terrific way to answer this following question. This implies you combine characteristics from the greatest ecommerce website in your sector into your vision. Make use of what works! 
Continue to search for your own unique personality for your website, but take note of all the features and layouts that contribute to excellent success for your ecommerce website design from the main rivals.
Make a list of the features you want in your ideal template
One of the most major benefits of adopting a website design template is the abundance of options accessible. What features do you want your website to have? Making a list of them will guarantee that you don't miss anything when you're looking around. It also assists you in narrowing down your options, as there are millions to choose from.
The following are some of the features you'll want on your ecommerce site:
Pages dedicated to certain products

Pages for each category

Photo Gallery

Header and footer are two sections of a website.

Color Scheme and Design of the Navigation Bar
Search for top ecommerce website design for reference
What you do need, though, is some inspiration and a basic grasp of what effective website design entails. We've compiled a list of the top 8 e-commerce website designs to help you get started. 
With hundreds of website designs available, even something as basic as selecting a template may be complicated. To pick the proper website designs for your ecommerce site, you may refer to some available ecommerce website designs that will provide you with inspiration as well as effective functions to your business's website. 
Sample ecommerce website template may include the following features that can be necessary for your business:
Homepage

Category pages

Product landing pages

Checkout page

About us

On-site search engine

Account registration and login forms

Email subscription form

Legal requirements

Choose a template that have the below features
Your e-commerce theme should reflect your company's image. When it comes to good design, everyone has their own preferences. Obtain various viewpoints from experts who are skilled in the field of design. Also, make sure that the color scheme of your theme and the visual appeal of your business accurately reflect your brand's story.
Leaving enough spaces for photos and text
Themes place different emphasis on this component depending on the requirements. As an e-commerce theme, product photos should be shown properly. The e-commerce website comes alive with the help of a beautiful image and well-written content.
Choose an e-commerce template with plenty of room for banners advertising discounts and special offers, as well as professional-looking product pages.
Why are you building your business online? To establish a brand identity and reach out to the general public?
If so, your eCommerce website theme should match the look and feel of your company. This is one of the most common mistakes individuals make when selecting a website theme.
A website selling jewelry must have a distinct appearance from one selling vehicle parts and accessories. Similar to the jewelry theme, the vehicle parts & accessories theme is made with a lot of photographs and emphasizes the design, however the jewelry theme has to appear a little older.
You may alter the layout of your web pages across multiple screen sizes and devices with a responsive template. You may also delete the templates that don't contain the characteristics you desire from the alternatives once you know what you want. Isn't this fantastic? Because mobile devices account for the majority of internet traffic, you'll want to pick eCommerce website templates that have this feature.
Cell phones are increasingly often used to access the internet. Mobile and other hand-held devices account for a large amount of online traffic. Because this is a growing trend, it's important to cater to these consumers. It is, in fact, a legal necessity to have a mobile-friendly website.
It's a good idea to choose an ecommerce website template that includes a customization function since you may need to add non-standard features to your site. You will only be able to do so if you have flexible customization choices.
Of course, if you're not a developer, this choice may appear to be overkill, especially if you're unfamiliar with their features. However, it is essential that you consider the future of your website company and leave the door open in case you need to add a non-default function.
Once you have the necessary tools, your ecommerce website will grow quickly. There will always be a need to change the features or functionality of your website as they expand. This is why, in order to respond to those changes, your template must be very adaptable.
Search Engine Optimization (SEO) denotes that your website is well-designed to be quickly found by Google and, as a result, is more likely to appear at the top of search results. 
It's not a good indication if your business is ready and well-equipped with features but no one comes in to see it. Consider choosing an e-commerce theme that has SEO tools and does not require any further customization.
It is worthwhile to devote an extra hour to finding the ideal e-commerce theme for your e-commerce website, but you must also consider the usability and the impact on your sales. If you select an e-commerce website theme that is appropriate for your company, brand, and products or services, you will be successful.
The final word
Choosing an ecommerce website could be easier if you follow the steps and checklist above. All you have to do now is just choose a product catalog, purchase a template, and begin adding content.
Still think choosing an ecommerce website template is complicated? You may need to work with a website developer. 
HBLAB JSC is an IT outsourcing company located in Vietnam. With 7 years of experience in developing website & application, AI/AR/VR and data migration, HBLAB JSC can provide you with the best ecommerce website for your company. 
For more information regarding our services, please take a look at https://hblabgroup.com/