Your business is running well without a corporate website development? Or you are aware of the importance of a corporate website then you already had one of your own, but it didn't bring much difference to your sales?
Have you ever figured out where things go wrong? How can you persuade users to stay with an interface full of texts, no images, and hard to navigate?
In this article, HBLAB will show you about corporate website development that wins potential customers.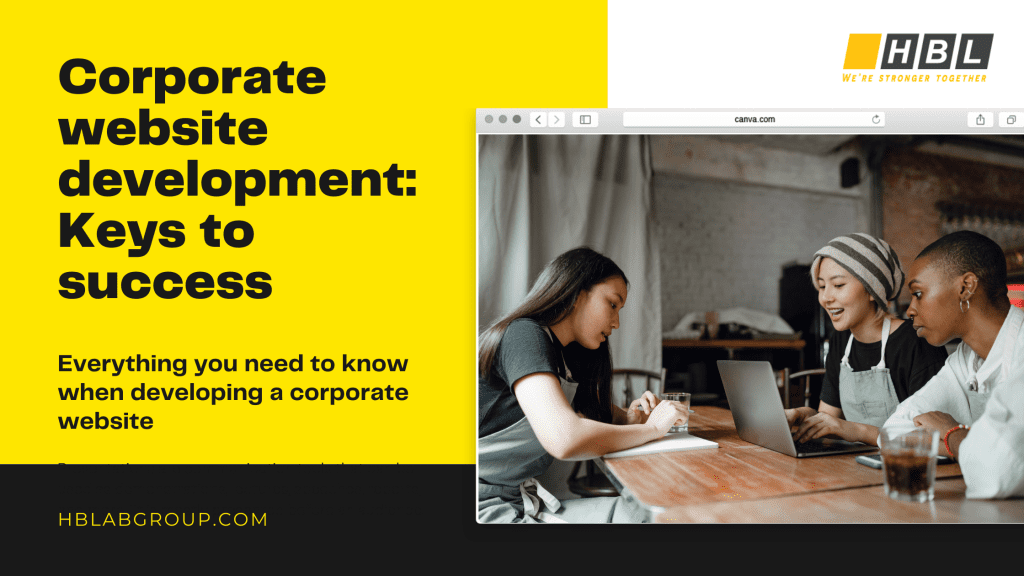 Benefits of a corporate website?
Unlike promotional websites or landing pages, corporate websites reflect the company itself, with its core products and services, and its people, culture. 
Let's take a look at the benefits of having a well-designed website for your business:
Credibility: it is crucial to create an informative and impressive website because it gives off the impression that your business is authorized and can be trusted. Once visitors are convinced that your business is reliable, it would be much easier to convert them into potential customers.
Accessibility: A website enables customers to easily find out the information and get in touch with you immediately. 
Return on investment: Investing in a high-quality website helps you to increase your sales, profits, and the value of your business in the long run with a one-time investment at the beginning. 
Effective Marketing Tool: Once you have your own website, it is a stepping stone to deeply dive into digital marketing: email marketing, SEO, Google Ads, or social media marketing…
To choose the best website development business, there are a few things you should know in advance. Here is the 5-step-guide to help you with your search while looking for the finest web development service.
Must-have requirements for corporate website development
When it relates to creating a new business website, there is a lot to think about, so it's critical to get things off to a fantastic start. Hopefully, the things discussed in this section will assist your site in becoming more effective. You'll be in good shape to attract visitors and produce new business with a user-friendly interface, outstanding content, SEO, and responsive design. 
1. User-friendly website interface
The interface serves two different purposes for 2 different users:
Friendly admin interface: At HBLAB, we acknowledge that not all customers have a technology base, which means not all of them can easily manage and operate on the corporate website. In order to make the admin interface the easiest to use, we prioritize WordPress – the most widely used platform. Besides, we hand over the detailed guidelines and support customers to manage this platform in the shortest possible time.
Friendly end-user interface: The most important experience belongs to the user. UI is what visitors see at your website, and UX is how they interact with it. If any of these elements is not tailored to the user's needs, your website will not be successful. Therefore, with corporate website development, we ensure the UI/UX always be tested to be effective. 
2. Detailed and compelling content
While the interface is considered as the appearance of the website which catches the audience's attention, detailed content is what keeps them staying and coming back. 
Because of that reason, try to mix up different types of content on your corporate website: from copy to images, video, product descriptions, company information to blog posts… Use those contents to educate visitors rather than trying to sell things, then visitors can become your regular visitors and maybe customers. 
Also, a content-rich website will positively raise your overall SEO ranking, improve your credibility and impress visitors. 
3. SEO
The process of optimizing your website so that it performs effectively in search engines is known as SEO. The better you are at this, the more likely you are to attract the people you desire to your website. Well-optimized sites can see massive growth in both traffic and sales.
On-site, on-page, and off-site SEO are the three components of SEO. Each strand focuses on a distinct criterion used by search engines to rank websites in their results.
On-site SEO requires that your website load rapidly, be mobile-friendly, be readily navigable, and be structured in such a way that search engines can identify and index all of your content.
On-page SEO is used to help search engines comprehend what each page, post, and product on the website is about. This necessitates the usage of relevant keywords and topic terms in titles, headings, meta descriptions, and content in general. You'll need to research the terms that clients use in their searches if you want to be successful.
Off-site SEO is to increase the domain authority of your website. Specifically, it is getting different sites with great notorieties to connect to your site.
4. Responsive on different devices
According to the report, 61% of all Google search comes from mobile devices (Statica) and from 2020 Google changed its search algorithm in order to prioritize websites which is mobile friendly. A responsive website can adjust to any screen size.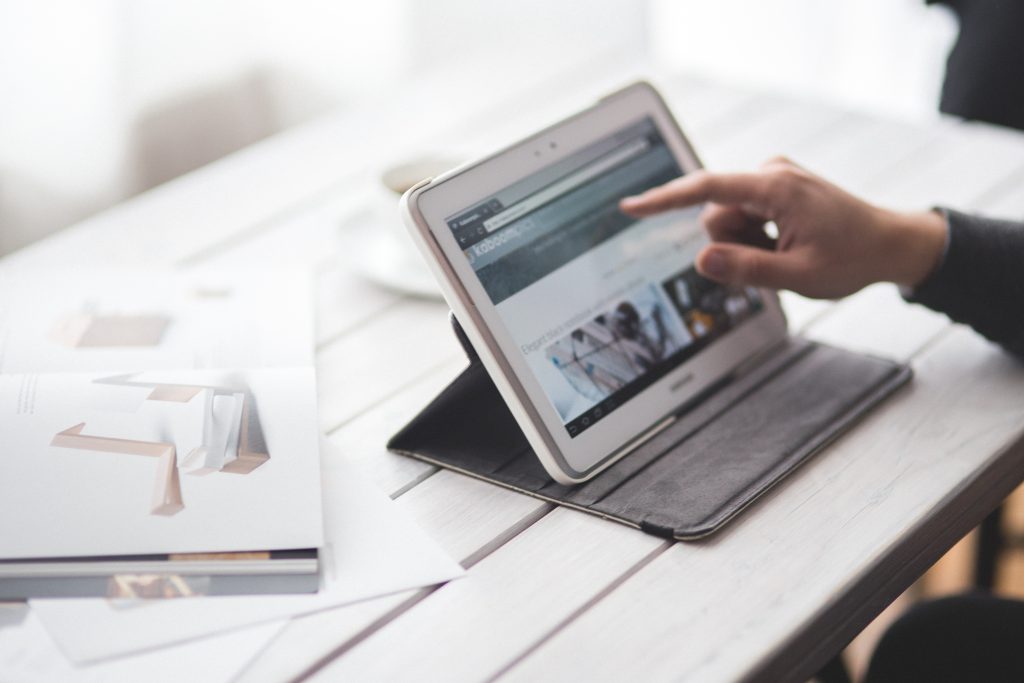 Essential features for the outstanding corporate website?
It is imperative that your website tells a compelling story about who you are, what you offer, and how to reach you. This virtual welcome gives people confidence in your services. At a minimum, you should include four features.
1. Homepage
The homepage is where most of your site's action takes place. It's the first thing people see, and it affects whether they'll stay and look around or go.
When designing your homepage, consider the customer's point of view. You have complete control over your visitors' first impression, from tabs to graphics and copy.
In just a few seconds, visitors should be able to understand the goal of your homepage. You want them to be able to view your logo and a call-to-action button.
So, avoid clogging up your homepage with a slew of unrelated photographs. You also don't want any weird color combinations. Aim for minimalism in your design to represent your modest business effectively.
2. About us
The About us is a place where you can elaborate on your company's mission and achievements. Make big claims and explain how your objectives will benefit customers.
This article relies heavily on storytelling. You want readers to identify with your brand's beliefs, join you on your journey, and spread the word to their family and friends.
3. Products/ Services pages
The most important page when talking about corporate website development is the products and services page. It should turn a one-time visitor into a regular shopper. You have every right to devote a significant amount of time to improving the client experience on this website.
When writing a product description, focus on the benefits rather than the features. Tell a compelling story about how customers will feel after acquiring your product. You want them to feel like they're a part of the product even before they get it.
Product photography is also very important. Allow users to zoom in and out of numerous viewpoints of the product. Shoot a brief film to enhance the visual experience where appropriate.
Contact us
Communication aids in the development of strong client relationships.
Consider your contact page to be a customer service tool. Whatever the reason for the visitor's presence, the first focus is to provide excellent service. You also want customers to receive reliable information.
You may include the brand's physical address, email address, or phone number in your message. Please indicate the availability of the support agents on the page if you have a live chat option.
Your contact page should be simple to find. Customers shouldn't have to navigate through five different pages to get in touch with your company.
Setting consumer expectations on the contact page is ideal. Make a guarantee to your visitors about how long it will take you to respond.
How to choose the best corporate website development company?
In this highly developed digital world, how can you find the best web development company? Don't worry; we've compiled a list of helpful hints to assist you in making your decision.
1. Determine your site design budget
When choosing which web development firm to work with, consider how much money you are willing to spend on the selected company. The ideal technique is to seek advice from a variety of web development firms or web designers.
They may make meaningful recommendations for a website development company that fits within your budget, as well as additional web development solutions to help you achieve your objectives. These measures will assist you in overcoming any potential issues as well as establishing ties with current agencies.
2. Make a list of costs and fees
The majority of agencies do not post their costs on the internet. It is a means for a web development agency to give services to the client, and it does not necessarily mean that it is of bad quality.
Obtaining or selecting pricing from a number of web design businesses might take time, especially if the agencies provide a variety of bundles or unbundled services. You can pick between two pricing models based on the specifics of your project: set price or hourly rate.
For web design services, different companies will charge different prices. It's tough to estimate the cost of a website. You can, however, acquire a ballpark figure for how much a website will cost.
3. Make a list of possible vendors
Once you've figured out all of your criteria and objectives, you can begin compiling a list of suitable vendors for your business. You'll be able to find the ideal web development business by taking simple procedures if you have clear project requirements.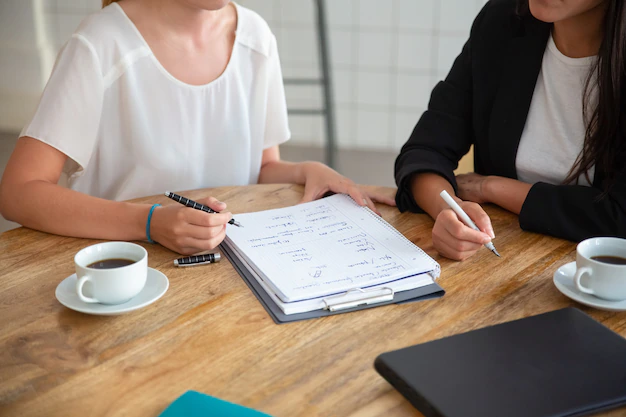 Experience
You don't want to entrust your project to amateurs, so look for a business that has been doing web development for a long time. Intersog has been in business for 16 years and specializes in providing high-quality website solutions to clients in a variety of industries.
Expertise
Years of experience in the field aren't the only criterion for selecting a good software development partner. You should also look through their portfolio and check out what kinds of projects they've worked on in the past. This will provide you with a comprehensive image of their capabilities. You'll also be able to get in touch with their former consumers and inquire about their experiences.
Reputation
Check out review sites like Clutch to discover what the vendor's reputation is like. Check out what other people have to say about the company and the types of tasks they've completed successfully.
Location
If your company is based in the United States, you should look into the vendors in your area or nearby. Onshoring, nearshoring, and offshore are all options for your project. The latter two would be more cost-effective, as hiring workers outside the United States is often less expensive. However, keep in mind that the more away your provider is, the more difficult it will be to create an effective communication line.
Stack of Technology
Examine the vendor's experience with various technologies and whether it meets your needs. For example, your project may require frameworks such as Angular, Vue.js, React, or any other of them. Experts who can utilize your potential vendor are required.
Communication
Again, you don't want your provider to be on the other side of the world because it could lead to communication issues, as well as cultural and language hurdles between you and the team. Talk to the vendor's representative, hear them talk, see whether they are a cooperative type. You expect your vendor to understand you both literally and metaphorically, which is why communication is so important to the success of your project.
Why choose HBLAB for your corporate website?
Over 6 years of experience in developing websites in various fields for large domestic and foreign companies and corporations, HBLAB confidently provides customers with the best website – application services and solutions for you.
With a team of seasoned experts, fast website development speed from only 2 months, cheaper price with the native production team and fluent language skills, long-term maintenance – HBLAB is committed to bringing the best experience during and after the cooperation process.