Modern e-commerce platforms are cost-effective and user-friendly, allowing you to quickly develop a personalized e-commerce website for your company. Most e-commerce platforms also provide plug-and-play options for crucial features like secure payments, shipping, and marketing. You won't need any coding knowledge to create a professional-looking website. Our e-commerce website building guide will lead you through all you need to know to start your online business.
5 steps to build an E-commerce Website
1. Come up with a name and a domain
Your web address is your domain, often known as a URL (Uniform Resource Locator). It is the "home" of your website on the internet, and it's what customers type into the browser bar to access it.
Choosing a proper domain name is crucial to your entire branding and success. If feasible, choose a company and domain name directly related to what you sell. Customers will know what you sell upfront if you use descriptive keywords or key phrases in your business and domain name, and it will also help you rank well in search engines, which is critical to your SEO strategy.
Once you've come up with a couple of names, go to a domain registrar like GoDaddy, Bluehost, or Google Domains and purchase your domain. Go to one of these sites and type in your company name. It will inform you whether or not the domain is available.
If your name is already used, these sites will show you alternatives such as .net or .co or another option. Ideally, use a .com because it is the most prevalent and trusted domain extension. If your heart is set on a specific name and the .com is taken, the .net and .co alternatives are well known.
Depending on the service and any add-ons you pick, such as domain privacy, your domain name will generally cost between $12 and $25 each year. You might also find that every e-commerce platform you use to create your website comes with a free domain, which brings us to our next point.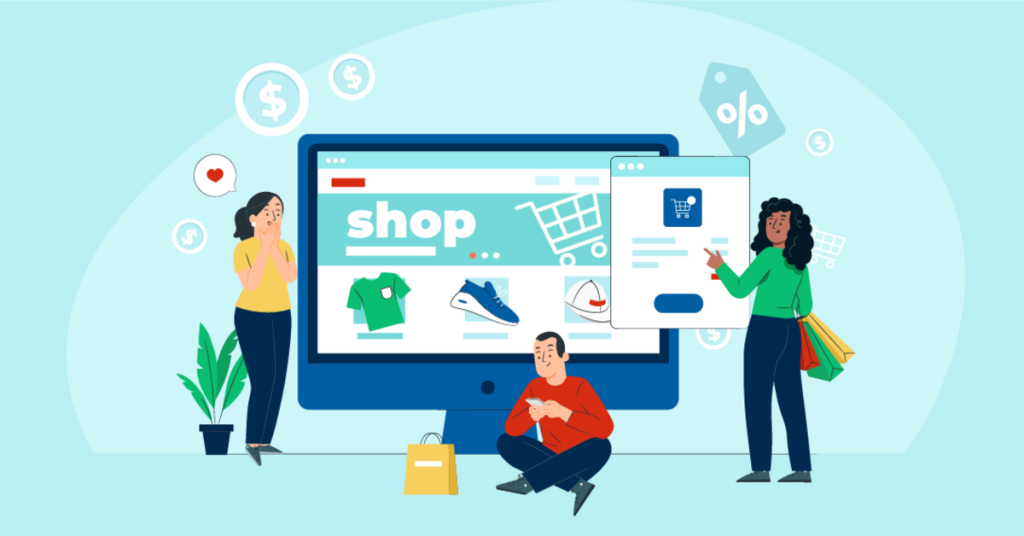 2. Select a suitable e-commerce platform
An e-commerce platform is where your website "lives" online, and you have several options. You can use popular website builders to add e-commerce functionality or choose a dedicated e-commerce platform that can handle endless expansion.
Here are some of the top e-commerce platform options for you to consider:
2.1. Platforms for dedicated e-commerce
These are the quickest and most convenient ways to build a fully functional e-commerce website. These solutions are incredibly durable and extendable, with built-in features such as secure payments, shipping labels, email marketing, and multichannel sales assistance. These solutions aren't free, but they do provide many features for roughly $30 per month.
The following three dedicated e-commerce platforms may be ideal for you:
BigCommerce: BigCommerce is a multichannel e-commerce platform that is possibly the most extensible for small businesses. Monthly plans start at $29.95.
Shopify: Shopify is the most popular dedicated e-commerce platform and is excellent for drop-shippers and entrepreneurs. Plans with Shopify start at $29 per month.
Shift4Shop: Shift4Shop is another strong player in the dedicated e-commerce platform field, with a $19 monthly beginning plan.
All of these dedicated e-commerce platforms include a risk-free trial period, allowing you to try them out before deciding which one to use.
2.2. E-commerce features in website builders
Wix, Weebly, and Squarespace are popular website builders that include e-commerce features. If you currently have a website on one of these platforms, upgrade to an e-commerce plan to add online sales functionality.
Wix: Starting at $23 per month, Wix offers hundreds of gorgeous, easy-to-use website templates with e-commerce functionality.
Weebly: For $25 a month, you can construct a stunning site with e-commerce options with Weebly, which is similar to Wix.
Squarespace: E-commerce options start at $30 per month, with hundreds of design templates.
The DIY and side-gig audience favors website-building platforms because of their simplicity. A dedicated e-commerce platform, on the other hand, provides more integrated sales and marketing features for similar rates if you're developing a website with the intention of growing.
2.3. WordPress e-commerce plugins
Because of its extensive customization capabilities and low cost, WordPress powers more than half of the world's e-commerce websites. The following e-commerce plugins can be used to add online store capabilities to any WordPress website for free:
WooCommerce: The WooCommerce plugin for WordPress gives full e-commerce capability.
WP EasyCart: Like WooCommerce, WP EasyCart extends WordPress with a complete set of online store functionalities.
BigCommerce: BigCommerce is a dedicated e-commerce platform that also integrates with WordPress, allowing you to combine multichannel sales with a brand-building blog.
2.4. Free e-commerce website platforms
Free e-commerce systems allow small enterprises with a few products to sell online without incurring any upfront or continuing charges. These platforms either have less functionality or limit the number of products you can list for free compared to the e-commerce solutions mentioned above.
There are three platforms to consider:
Square Free Online Store: with every Square account, users can expand their business online effortlessly.

Freewebstore: Freewebstore is a free e-commerce platform that allows you to sell up to 20 products; premium plans will enable you to sell more.

Ecwid: Ecwid provides a free e-commerce website with up to ten products; premium plans include additional products.
3. Create an e-commerce website plan
To develop your business website, you'll need to gather the following parts and information:
3.1. Imagery for the logo and brand
You can build a simple type logo on any e-commerce platform or utilize a third-party site like Canva to create your logo from free logo templates.
3.2. Product images, descriptions, and information
Consider including the following information on your website, as well as a few pointers to help you promote products more effectively:
Great product images: With a bit of imagination and a cell phone camera, you can take great product photos. Take pictures from several angles and, if feasible, show your products in use.

Product videos: Authentic, real-world videos have proven to be practical sales tools, and you can record them on your phone.

Detailed product descriptions: Write excellent product descriptions that include all information. For each product you sell, provide the size, weight, material and answers to frequently asked questions. To improve search engine rankings, use keywords in product titles and descriptions where it makes sense.

Product alternatives: Variables are options like size and color, and e-commerce platforms allow you to establish many variables for things that come in different sizes, colors, etc.

Product SKUs: Make sure you have your internal stock keeping units (SKUs) and any manufacturer's codes. Manufacturers' codes are helpful to add in product data since purchasers may search using them.

Pricing: Many e-commerce platforms include single-item and group price options and sale and discount pricing. Some even allow you to keep track of your product expenses for reporting purposes.

Item size and weight: E-commerce systems use item size and weight to calculate real-time shipping charges and print labels. This is an optional step, but it can save you time by automating your shipping procedure.

Inventory: Insert a stock amount for each item, and your e-commerce platform will keep track of your inventory as it sells.
3.3. Your story
Make the "About Us" part of your website shine if you want to connect with potential buyers. To keep buyers coming back for more, share your personal journey and enhance it with images and videos. Make it fun and engaging.
3.4. Customer service pages
Your e-commerce website menus make it simple for customers to navigate your content. Most systems allow you to design the main menu bar, as well as footer menus, top and sidebar menus, and sometimes both. Experiment to determine which mix of products and content works best for you.
3.5. User-friendly navigation
Your e-commerce website menus make it simple for customers to navigate your content. Most systems allow you to design the main menu bar, as well as footer menus, top and sidebar menus, and sometimes both. Experiment to determine which mix of products and content works best for you.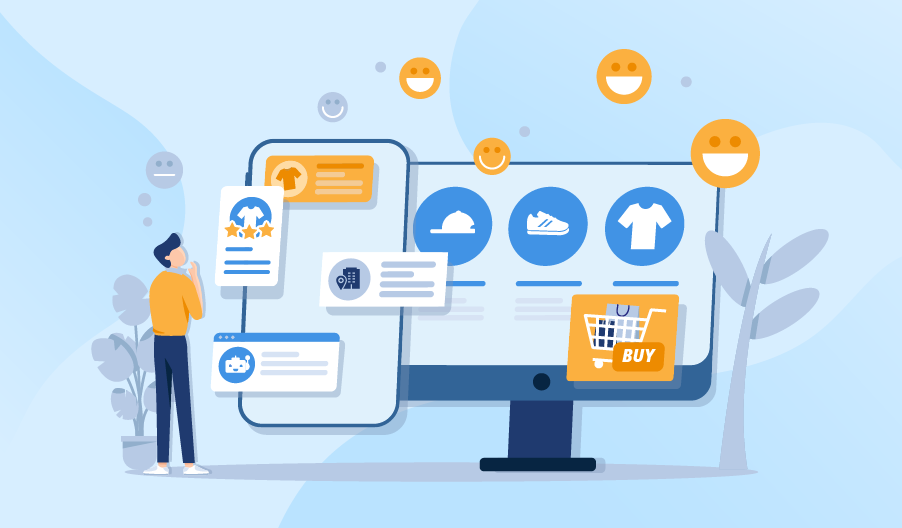 4. Prepare payment, tax, shipping and marketing tools
Depending on your e-commerce platform, this step may differ. Payment processing, tax computations, shipping label printing, and marketing capabilities are all included in all-in-one platforms like BigCommerce and Shopify. Most others require integrating a few outside services to handle these tasks.
4.1. Payment processing and tax table setup
All of the e-commerce website platforms mentioned above have built-in support for popular payment systems like Square, PayPal, and Stripe. You simply click a few buttons to allow payment processing with these solutions, set up your account, and you're linked.
You can also connect your own payment gateway and merchant account to most platforms. Built-in and plug-and-play payment services, on the other hand, are the easiest and most cost-effective solutions for startups.
You'll set up sales tax rates to be collected from shoppers after setting up your payment processor. All e-commerce website platforms support sales tax collection, and you can apply taxes to specific or all items and purchases. Your sales tax rate is determined by your state and, in most situations, your total sales volume.
4.2. Shipping setup
To streamline the order fulfillment process, you can and should integrate shipping software with your e-commerce platform. Purchases are easily connected to shipping software, allowing you to choose carriers and shipping methods, print labels, and immediately notify consumers when their orders are shipped.
BigCommerce, Shopify, and WooCommerce all have built-in shipping, so the setup is quick and easy. To print labels and provide customer notifications, most other systems require you to link a third-party service like ShipStation or ShippingEasy. These integrations are compatible with most systems, although they can increase monthly fees.
Once your shipping solution is set up, you can design shipping rates for charging your clients' shipping expenses. Most e-commerce companies allow you to include real-time rates, which are the actual shipping costs for each order. You can also charge flat prices based on order totals or provide free delivery on all or some items.
4.3. Email marketing and social media setup
Some website platforms, including payments and shipping, have extensive marketing options. Integrated solutions BigCommerce and Shopify both provide comprehensive marketing solutions. In just a few clicks, you can create and use email lists to engage with customers and sell products and distribute promotions across your social media profiles.
Setting up marketing options on other e-commerce platforms takes a little more effort. Free plugins, for example, can connect WooCommerce to popular email marketing providers like MailChimp. You'll need to pay for plugins to connect your products directly to social media accounts for social commerce.
5. Final check and launch e-commerce website
Processing a few test orders is the final stage in developing an e-commerce website. Each e-commerce platform handles testing differently, allowing you to place a few pre-launch test orders. These orders establish a connection with your payment processor but do not charge your credit card. You're ready to open for business once you've successfully sent a few test orders or fixed any faults you found when navigating your e-commerce website.
Wrapping up
Keep in mind that opening an e-commerce website does not guarantee immediate sales. Search engines take time to identify and index your new online store. You can make this process go faster by authenticating your new store in Google's Search Console and uploading an xml sitemap, which most e-commerce platforms give.
In the meantime, after your online store is up and running, you may utilize social media and Google Adwords advertising to spread the word. Contact us today for more details on how you can grow your business tremendously using an e-commerce website.