Because of the COVID-19's impact, over 80 blood donation events at the National Institute Of Hematology & Blood Transfusion (NIHTB) were postponed, leading to 25,000 blood units not being received as planned. To support the blood donation community, HBLAB organized a blood donation event: 𝑺𝒉𝒂𝒓𝒊𝒏𝒈 𝑯𝒂𝒑𝒑𝒊𝒏𝒆𝒔𝒔 – 𝑮𝒊𝒗𝒆 𝑩𝒍𝒐𝒐𝒅, 𝑺𝒂𝒗𝒆 𝑳𝒊𝒇𝒆 on December 20th, 2021 at the company site with the help of NIHBT.
The program took place successfully, recognizing the participation of our company's employees and people who came from different locations. HBLAB would like to thank the NIHBT for their enthusiastic support and everyone who registered to donate blood for joining hands to hold this meaningful activity.
In the coming days, HBLAB will organize many meaningful activities towards the community, spreading love, maintaining the company's core value – 𝑺𝒊𝒏𝒄𝒆𝒓𝒆 & 𝑼𝒏𝒊𝒕𝒆𝒅.
Let's have a throwback to the event through the series of photos below!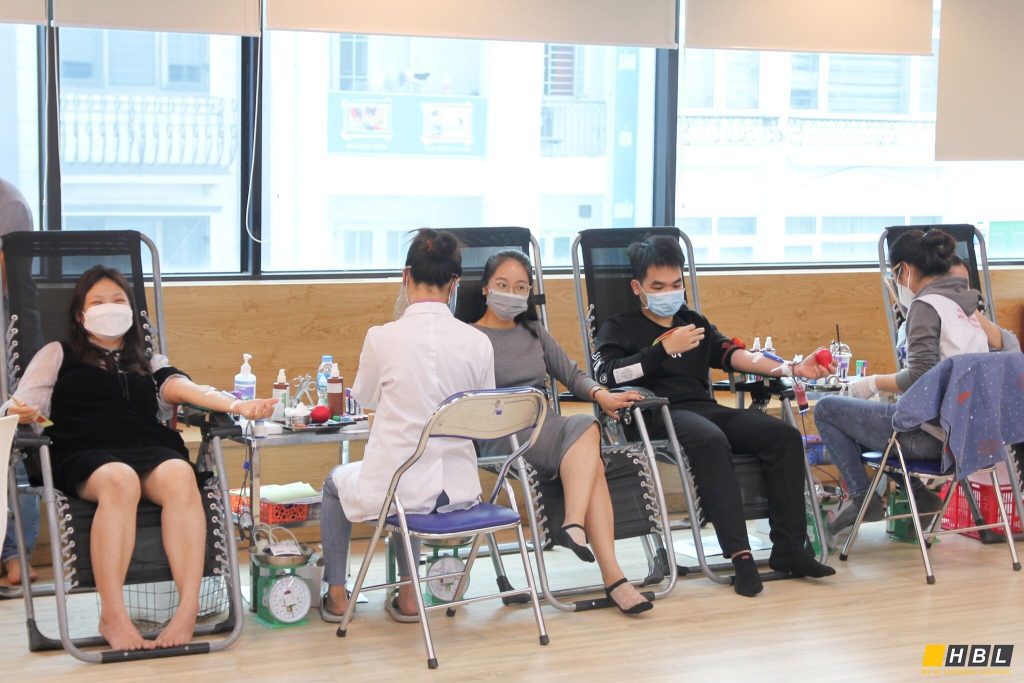 *𝑽𝒊𝒆𝒕𝒏𝒂𝒎𝒆𝒔𝒆 𝒄𝒂𝒑𝒕𝒊𝒐𝒏:
Do ảnh hưởng của dịch COVID-19, chỉ trong tháng 11, hơn 80 lịch hiến máu tại Viện Huyết học đã bị hoãn hủy, 25.000 đơn vị máu không thể tiếp nhận theo kế hoạch. Hưởng ứng lời kêu gọi của cộng đồng hiến máu, HBLAB đã tổ chức chương trình hiến máu: 𝑺𝒉𝒂𝒓𝒊𝒏𝒈 𝑯𝒂𝒑𝒑𝒊𝒏𝒆𝒔𝒔 – 𝑮𝒊𝒗𝒆 𝑩𝒍𝒐𝒐𝒅, 𝑺𝒂𝒗𝒆 𝑳𝒊𝒇𝒆 vào ngày 20/12/2021 tại công ty dưới sự hỗ trợ của Viện Huyết học – Truyền máu Trung ương.
Chương trình diễn ra thành công tốt đẹp, ghi nhận sự tham gia nhiệt tình của các anh chị em cả trong và ngoài công ty. HBLAB xin gửi lời cảm ơn tới Viện Huyết học – Truyền máu Trung ương đã hỗ trợ rất nhiệt tình và tất cả mọi người đăng ký hiến máu vì đã chung tay gây dựng hoạt động đầy ý nghĩa này.
Trong thời gian tới, HBLAB sẽ tổ chức nhiều hoạt động ý nghĩa hướng đến cộng đồng, lan tỏa yêu thương, duy trì giá trị cốt lõi 𝑪𝒉𝒂̂𝒏 𝒕𝒉𝒂̀𝒏𝒉 – 𝑪𝒉𝒊𝒂 𝒔𝒆̉ của công ty.
Cùng nhìn lại sự kiện qua loạt ảnh dưới đây nhé!