Every single day, new finance applications hit the market. It is obvious that banks and fintech firms are turning into direct competitors in the finance business, as investments in fintech are expected to rise dramatically in the next few years. As a result, customers can choose from a wide variety of cutting-edge apps which offer them interesting answers to their difficulties.
Due to open banking and the pervasiveness of smartphones in our daily lives, businesses may provide customers with a simple way to manage their money without ever having to go to a bank by creating a fintech app.
Since developing a fintech app is not a simple process, we want to offer some of the knowledge we have gained over the course of our nearly 7 years of expertise in the fintech sector in this guide.
So how to develop a fintech app? What are the steps? Let's start right now!
AN OVERVIEW OF FINTECH INDUSTRY
It's harder than ever to comprehend what fintech actually is these days. Today, it's a phrase used to refer to businesses that work in the financial technology industry. The majority of these businesses are start-ups that create cutting-edge solutions for big data, alternative finance, financial management, and digital payments.
The fintech market is anticipated to grow at a CAGR of 9.2% to $158 billion by 2023 and maintain this growth rate through 2025, according to Business Research Company. This growth is largely influenced by increased investments in fintech startups, rising internet usage, and an increase in disposable income.
Because of how rapidly the fintech industry has expanded in recent years, 66.7% of bank executives think that fintech will significantly affect mobile payments.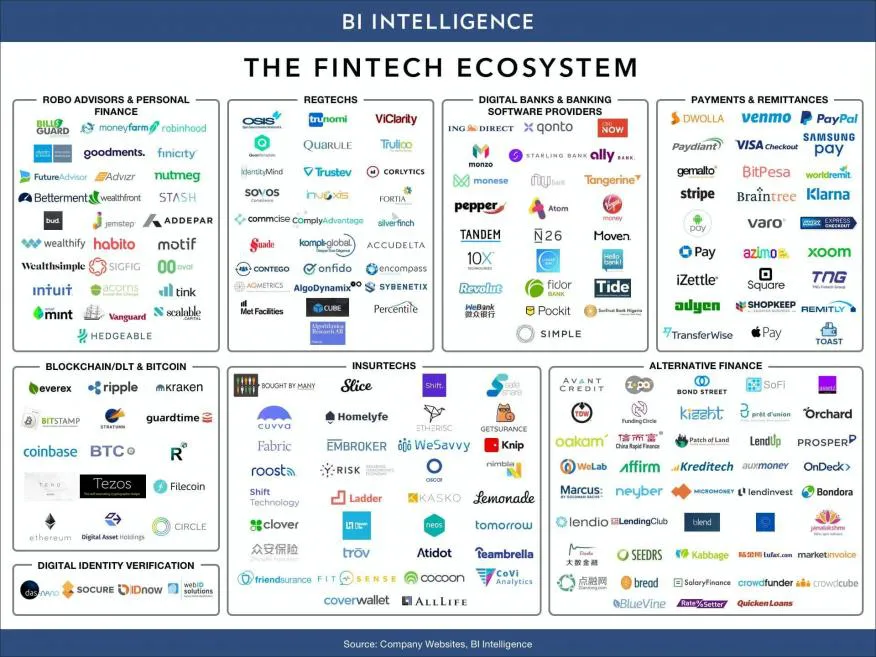 What is Fintech?
The term "fintech" describes how technology and finance interact. Fintech services range from budgeting apps, BNPL services, mobile payments, ATM cash withdrawals, and more to any service that employs technology to manage money.
The Fintech Market
Because everything we do involves money, the fintech market encompasses a wide range of areas in people's lives. According to Statista, Digital Payments will account for the largest market sector in 2022, with a total transaction value of $8.56 billion. Users within the same market are anticipated to increase and surpass 5 billion by 2026.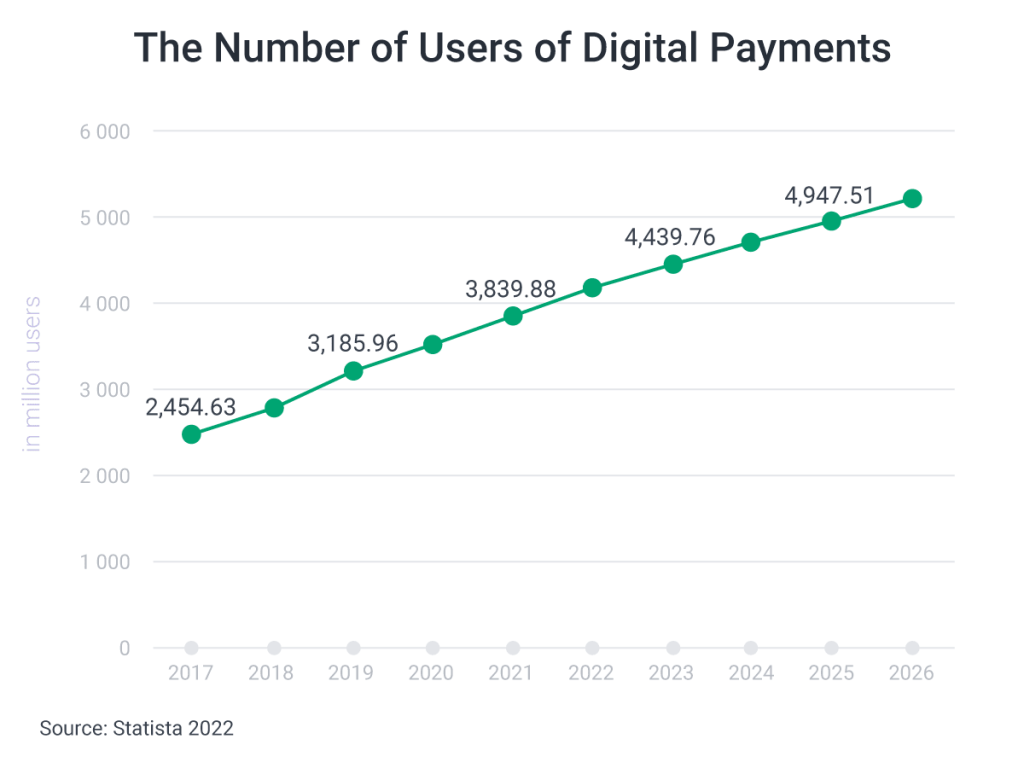 Various fintech application markets:
Transactions and payments

Personal Finance

Neobanks

Trading and Investing

Insurance

Lending

Cryptocurrency-based exchanges
Examples of Successful Fintech Apps
It is evident that there are many different success stories when looking at the top fintech applications list. However, certain market participants were able to gather enough momentum to develop and begin displacing traditional banks' revenue.
Venmo: This widely used payment tool enables users to divide the cost of anything from a meal to a plane ticket. Because it is simple to use, compatible with both iPhones and Android smartphones, and even includes a chat option for users, it first gained popularity as a finance software for millennials.
Robinhood: With the help of this fintech app, users can invest without paying any commissions. A savings account is one of the newest features, which makes the app even more intriguing for budding investors.
MoneyLion: This is one of the most popular fintech apps in the US. Along with asset management services, it offers access to loans and financial planning assistance.
WHY YOU SHOULD DEVELOP A FINTECH APP?
Users are currently accustomed to managing their payments via their cell phones. Fintech apps are a low-maintenance and user-friendly way to transfer and receive money with just a few clicks and manage transactions.
With more than 5 billion smartphone owners worldwide, apps are quickly becoming a convenient way to handle many facets of contemporary life. Users may transfer and receive money instantaneously without having to visit a bank, and when they need assistance, clever chatbots are available to assist them. In addition, following the COVID-19 pandemic, many people have been less likely to visit a bank in person due to issues like limits, safety, and convenience.
The promotion of financial education is another reason why banks and other financial organizations should create fintech apps. According to a Financial Regulatory Authority research from 2019, fewer Americans are financially literate, more Americans than ever are in debt, and half of all Americans say their personal finances are a source of worry.
Fintech applications may be essential for helping people manage their finances and debt. Apps can give users valuable suggestions on how to conserve money, as well as a greater understanding of their spending patterns and general financial situation.
Now, let's dive deeper into how to develop a fintech app!
HOW TO DEVELOP A FINTECH APP?
Every startup has the challenge of outperforming both its direct rivals and established banking institutions. How then may a fintech app be created that will finally accomplish such a task? It could be challenging to decide where to begin. Not to worry. A thorough explanation of the fintech development process has been prepared. You may successfully design a financial app that your consumers will like by following these simple steps. The procedure is as follows.
Step 1: Pick a niche and make sure that it is legal.
Choosing your area of fintech focus is the first step. There are two approaches you can take. Either pick a specific fintech category and look into what can be improved there, or come up with concepts and see where they fit. If you choose to develop mobile apps for fintech, there are always good investment opportunities available.
It's time to make sure your financial software will be in good legal standing after choosing a category. Numerous financial safety nets are constantly monitoring for noncompliance. The KYC (Know Your Customer) and AML (Anti-Money Laundering) policies are the most well-known examples. Aside from that, based on the nations where your app will be utilized, you'll need to abide by various privacy regulations (GDPR, CCPA, etc.). Compliance with legal standards is essential to success. So take your time with this process.
Step 2: Develop the Idea and Specify the Feature Set
You must consider how to develop a fintech app that will stand out from the crowd at this step. To start, conduct a marketing research project. You need to know who your rivals are and what your target market is interested in.
You should work with knowledgeable product managers and business analysts who can guide you through this crucial step effectively. You will be able to outline the vision of your solution, create a strong business case, and specify the main features in collaboration with these experts. Such in-depth explanation at this early stage will eventually help to lower the cost to construct a financial app and shorten the time to market.
Consider yourself to be your worst user at this point, about to delete our app and leave negative feedback as you narrow down the features. What characteristics would prevent you from doing that? They are typically:
Simple UI: Foreign exchange, investments, point-of-sale systems, and other financial information are always increasingly challenging to understand. If you make all of them simpler and add simple navigation, your app will be more competitive.

Visualization of data: Users of financial apps frequently mention visual information rendering as one of their most desired features. Use thorough charts, visualize the major events and procedures of the month to stay up with one of the primary trends (as per Techtic), and it will undoubtedly increase your retention rate.

Gamification: It's simply the universal trend for all applications, whether they pertain to banking, sports, or anything else! Add bonuses, cashback, and individual discounts. Apps that can enhance these aspects will undoubtedly succeed more.

Biometric Safety: Users will feel more secure using your app if you have more security levels in place. Software for facial recognition and fingerprint access will help protect user data from unlawful access.

E-signatures: This is a need for insurance software/apps. Printing several documents, physically signing them, and storing them in bulky files someplace in the office is already seen as a little unusual in today's society.

Automation: An application's ability to help users more develops positive usage habits and increases the retention rate. Different automated techniques provided by a fintech app help to reduce the number of errors and omissions claims resulting from incomplete or inaccurate applications.

Application tours: If users are given a quick and thorough tour of the app, they will feel they made the proper decision when downloading it. The video format works well for highlighting the main benefits, features, and functionalities of the app.
Step 4: Determine the Development Approach and Time & Cost Estimates
How much does it cost to create a fintech app? 

How should one approach development? 

How can a financial app prototype be made? 
At this stage, each of these points should be taken into consideration. You should work with a seasoned Project Manager to complete this task. In order to determine the tech stack and implementation constraints, the development and QA experts should also be involved in this process. You should therefore have a solid development plan that balances your time and financial limits.
Step 5: Create Your MVP and Put Your Idea Into Practice
It's wise to try out your idea before starting a lengthy endeavor. This is accomplished by using a minimum viable product (MVP) version. A minimum viable product (MVP) is a proof of concept that has just enough functionalities for the product's beta testers to use. It makes it more likely that you'll develop a finance app that benefits its consumers. Additionally, it is a fantastic opportunity to promote your software and draw in investors. With an MVP, you receive early feedback, lowering the likelihood that your idea will fail.
Step 6: Ongoing Development, Releases, and Support
Your app's development continues even after it is released. As you begin receiving insightful comments, it's time to keep upgrading and developing. We at HBLAB Group have extensive knowledge of the ongoing creation and maintenance of sophisticated fintech systems.
Support after that is crucial. Your technical team should always respond quickly and courteously when speaking with any of your clients. Users give the app a better rating when the app responds quickly and effectively to user issues. For huge and well-known apps, when even a minor flaw left unaddressed might completely ruin everything, it is a critical must.
CONCLUSION
If you've chosen to launch a fintech enterprise, you have a great possibility of building a successful and lucrative company. On your path to success, there will undoubtedly be many obstacles. How can I use the correct technology to create a financial app? How can a fintech app be created that will stand up to market competition? With the appropriate team by your side, you can easily overcome all of these obstacles as well as many others.
We at HBLAB Group have a wealth of knowledge in the financial industry. We know how to create a fintech app that your users will love. To learn more about our experience, look through our portfolio. We're confident that one initiative can improve the entire sector, so let's contact us and get to work on it as soon as possible.